Do you want to teach your children about the Reformation through engaging activities and biographies?
Are you looking for an alternative to Halloween that is actually a meaningful historical event rather than just a harvest party?
You want to use every moment to teach your children about Christ, BUT...


-Even Christian alternatives to Halloween tend to be harvest parties instead of focusing on an important historical event of the church - Martin Luther nailing the 95 Theses to the church door in Wittenberg, Germany and thus starting the Protestant Reformation.


You want your children to learn history and the benefits of the Reformation in an engaging way.


You want to use every opportunity and holiday to teach your children about Jesus Christ, so on October 31, you'd rather celebrate the history of the church with a Reformation Day party instead of Halloween. But you don't know where to begin...
I hear you!


I wanted to teach my children about the Protestant Reformation in an engaging way as a more meaningful alternative to Halloween than a harvest party.


I didn't want them to feel like they were missing out on the "fun" of Halloween but wanted to show them Christ and our rich Christian heritage in the Protestant Reformation through a party.


I was blessed to attend a few Reformation parties put on by churches over the years and saw the need to help other intentional parents be able to do this at home or their churches.
Introducing Reformation Day Activities guide!
This includes:
-Biographies and pictures of nine Reformers or Catholic Church leaders
-Engaging hands-on activities or games related to each Reformer or Catholic Church leader plus six extra activity option
-Instructions on how to set up activities and games.
-Printable pages for some of the activities.
-Resource pages of book recommendations, DVD recommendations and other resources for further study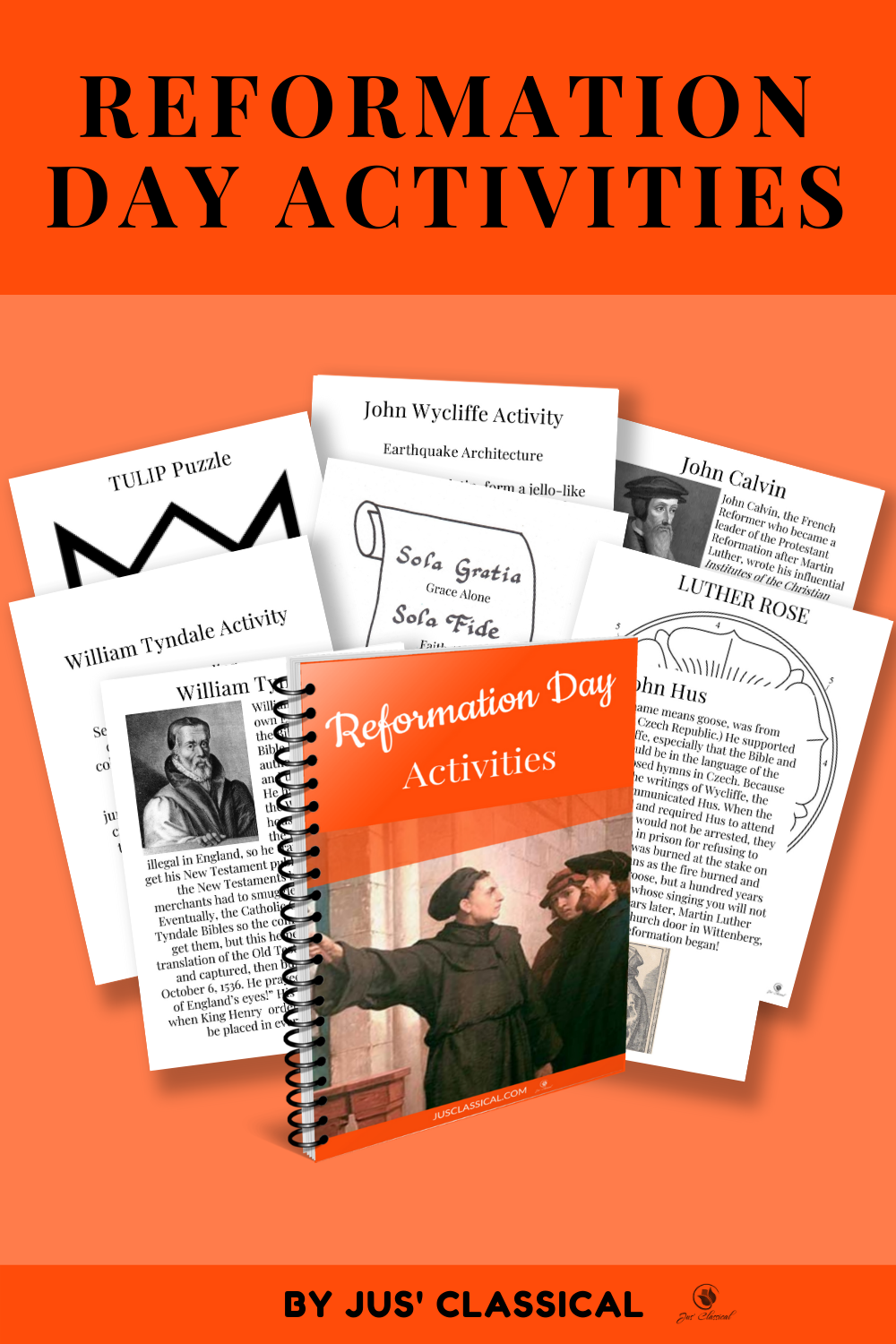 This is for you if:
-You want to be more intentional in pointing your children to Christ (by understanding church history) by celebrating Reformation Day.
-You want to organize a Reformation Day party for your family or church.
-You want a unit study for the Protestant Reformation.
Available in days

days after you enroll

Reformation Day Activities